Escape Rooms Atlanta

Escape Rooms Atlanta, Georgia
In escape rooms Atlanta, players team up to use the clues they find to escape the room before the time runs out.
Room escape adventures can be found all over the world. But like many major cities in the US, Atlanta is full of some of the best escape games available.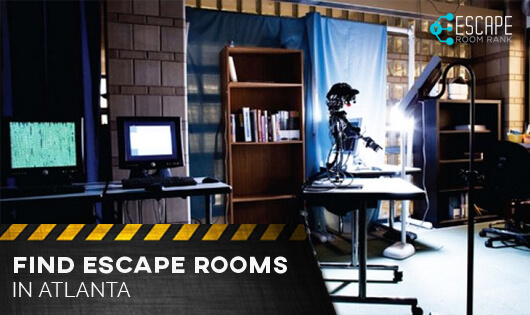 The Best Escape Rooms: Escape Rooms Atlanta
Mission: Escape Atlanta is easily one of the best escape games in the world. They currently have two amazing rooms: The Study and The Hotel. They are both $33 per guest and players will have 60 minutes to escape the room.
The most popular escape room game venue in Atlanta is most likely Paranoia Quest which has more than ten escape rooms. Each room has time limit of 60 minutes. Wonderland the Hole has an escape rate of just 3%! If that seems too challenging, then you may wish to try Pocket Universe, whose escape rate is 50%. It may not seem high, but for an escape room game, 50% is really good, as the average is probably 35%.
Breakout – Atlanta always gives players a thrilling experience as each of their five rooms have an exciting story to offer. Breakout – Atlanta will "kidnap" you, blindfold you, handcuff you, and give the best escape room artists a run for their money. See if you can escape islands, take on a new alias in casinos, and steal back priceless museum art from thieves!
VR Escape Room Atlanta
Like many other cities, Atlanta has its very own virtual reality escape room game. Ultimate Escape Game, the same venue that offers an "underwater" escape room, brings you an exclusive escape room experience.
They have over 80 games to choose from! They even have a VR escape game called Atlanta that allows you to explore the city's history as you solve puzzles involving Atlanta's landmarks.This game has only a 12% completion rate.
Atlanta VR may be hard, but it does have one room even more difficult called Amnesia, with a 11% escape rate. It is recommended that only escape room pros and veterans attempt this game where you will travel to an 1950's insane asylum in this "mind" escape game.
Escape Woods – Escape Room Atlanta
One of the most unique and best escape game experiences in Atlanta is not exactly an "escape room" but rather an entirely new escape game experience. Escape Woods was inspired by Sleepy Hollow and in this game, players will be immersed in an environment that incorporates the outdoors and other aspects into their escape game.
There are five games at Escape Woods. Some, such as The Cabin (where you must escape a from a future serial killer) are so intense that children are prohibited. While others, such as The Dig (where you must search the woods for an artifact) allow children ages 10 and up.
Escape woods is the first of its kind and promises you an escape the room experience like none other. When you finish your escape room, the venue known as Sleepy Hollow Farm, offers a corn maze and haunted trail as well.
The Apple in Georgia's Eye: Atlanta
Atlanta, Georgia is a prime destination to add to your list when touring the states. It is known for its opera, ballet, orchestral music, and theater, as well as being one of the centers for country music.
It is home to the CNN news network, the World of Coca-Cola, and the famous Fox Theater. You can also see the largest aquarium in the western hemisphere in Atlanta, The Georgia Aquarium.
Atlanta may have many famous attractions, but there may not be many as exciting as an escape room! So the next time you're in Atlanta, don't forget to add one to your list!
Learn More About Escape Rooms in:
Escape Rooms Houston
Escape Rooms Boston