Escape Rooms Boston

Escape Rooms Boston, Massachusetts
Room escape adventures are games where players are locked in a room where they must collect clues and solve puzzles to escape the room in approximately one hour.
Escape rooms Boston, Massachusetts is a great city for escape room fanatics. The bustling city has a nice collection of escape the rooms games to fit any age, personality, or skill level.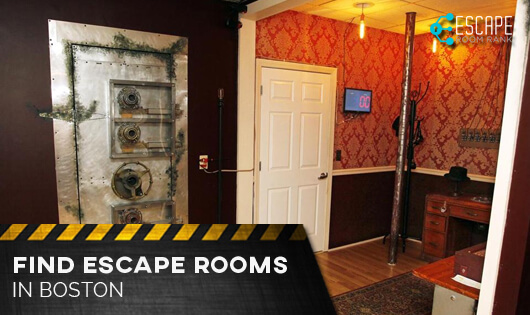 The Best Escape Rooms in Boston
Boston is full of some of the best escape games in the country. But there are a couple of games that truly stand above the others.
Trapology Boston is most definitely one of those escape room picks. The venue has two exclusive escape rooms and have been featured in various magazines and news sites. Although Trapology has unique exciting, frightening, and challenging rooms, this isn't what makes them so special.
Trapology has joined forces with Chris Evans (better known as Captain America) to create a pop-up escape room game. All proceeds go to non-profit charity Christopher's Haven that helps families with children battling cancer.
If you've already tired Trapology, then Escape The Room Boston is just as good! The Dig and The Apartment are both great picks, but it is Escape the Room Boston's original escape room The Office where the venue really shines.You're stuck at work and you can't leave! You have one hour to escape the room or else be trapped there forever!
Boda Borg Escape Rooms Boston
Unlike most escape rooms, Boda Borg gives you an experience that lasts much longer than one hour. Rather, Boda Borg offers a variety of quests to keep you busy all day long! Dodge bullets in the Platoon, explore the jungle, prove yourself to pirates, escape from Alcatraz or a haunted house, and so much more!
Originating in Sweden and just recently brought to the US, Boda Borg offers you something that no other escape room can: an adventure that never ends! There are over ten quests to choose from, each with an interesting story and completely different way to complete it!
The best part is: you can quest till your heart's content all day for the price of one standard escape room!
The Hole Escape Rooms Boston
In most escape rooms, you use your eyes to look for clues and solve puzzles. But what happens when you take that privilege away?
That's exactly what Wicked Escapes in Boston wants to find out. New escape games are always challenging typical rooms, but we very rarely, if ever, see an escape room game that is completely void of light.
In The Hole, a mysterious insane man has locked you in a dark lair! You have just thirty minutes to use your remaining four senses to solve puzzles and escape! It's unbelievably scary to feel your way through a dark, strange room full of all kinds of objects​, but trust that thirty minutes will drag along in total darkness!
How do you solves these escape room puzzles without sight? It's up to you to find out!
The Feisty City of Boston
Boston is Massachusetts largest city and one of the oldest cities in the United States.Since the arrival of Puritan settlers in the 1600s, Boston has been the hot seat for many events during the American Revolution, the Boston Massacre, the Boston Tea Party, the Battle of Bunker Hill, and the Siege of Boston.
Because of its historical background, Boston has many historical attractions. You can visit the site of the Boston Massacre, Freedom Trail, The Old North Church, as well as many other old sites and buildings. If you tend to favor the natural side of attractions, Fenway Park as well as many other gardens and harbors.
Along with the historical and natural attractions of Boston, escape rooms in Boston are a must-visit for anyone in the area who is looking for an adventure!
Learn More About Escape Rooms in:
Escape Rooms Chicago
Escape Rooms Houston