Escape Rooms Minneapolis

Escape Rooms Minneapolis
In room escape adventures a team of players work together to gather clues and solves puzzles in order to escape the room before the time runs out.
One of the best cities for escape rooms is Minneapolis, Minnesota. Here, you will find some of the best escape games in the country, and are sure to be satisfied with the variety the city offers!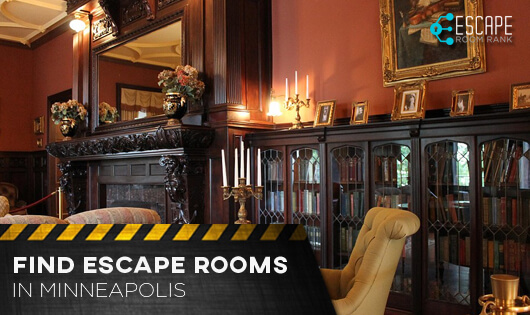 The Best Escape Rooms in Minneapolis
The very best escape rooms Minneapolis offers are most likely found at Escape MSP. They have a variety of rooms with three scales to help you decide which escape room to choose. Physically challenging, intellectually challenging, and scary (or the fear factor).
Here's a selection of their room escape games:
Dr. K's Lethal Injection, where you must find the recipe for an evil scientist's virus, takes the most intellectual skill.

The Raid on Mr. Croft's Museum, where you must steal a prized possession from a million, is the scariest. 

James Bomb, where your team must escape a basement and deactivate a bomb, is the most well-rounded.
Along with variety, Escape MSP also makes winners feel worthy by posting their scores on the site for all to see!
After you've been to Escape MSP, you may want to visit Trapped Puzzle Rooms. They rate their three rooms, The Apartment, The Workshop, and The Library, on three levels, difficulty, intensity, and physicality.
Find missing artists, take on mysterious challenges, and escape becoming a lab experiment in Trapped's exciting rooms!  
Breakout Escape Rooms Minneapolis
If you've tried all of the escape rooms in Minneapolis, then you may be interested in Breakout Games new addition.
One of the greatest new escape games of 2017 is sure to be located at Ridgedale Center in Minnetonka. Breakout Games has more than 20 locations across the country and is one of the best escape game venues in the world. But in March of 2017, the venue opened a new escape room in Minneapolis.
This location will include The Kidnapping, Museum Heist, Operation Casino, Hostage, and a very confidential, not yet revealed room called Island Hostage.
If you are a fan of escape the room games, you do not want to miss out on this Minneapolis adventure!
Old Town Escape Rooms Minneapolis
Old Town Escape isn't your ordinary escape room. They are located in an old building in Minneapolis so you can see a part of old history as well as experience something new!
The venue has two unique rooms. The Post Office sends you back to the 1970s where the postmaster has disappeared and it's up to you to find out why. The Witch's Kitchen is another room, where you are a witch's apprentice and have an hour to master the elements, explore the lair, and solve magical puzzles with the known fact that if you fail, you will be turned into toads!
Old Town Escape also offers a new type of puzzle adventure called The Oracle's Tent. It is a pop-up experience that you can book for your next event. The Oracle's Tent is great for parties, birthdays, weddings, and corporate events. Players will solve puzzles and have the chance to get their fortunes told!
The City of Minneapolis
Minneapolis is known for its many lakes, rivers, and wetlands. Those who visit can hardly go without seeing some famous body of water or another! Whether it be the Mississippi River, the Minnesota River, or one of the great lakes in the city!
Although full of beautiful natural waters, the city also has its fair share of man-made wonders. The Guthrie theater always has one of the top shows playing and the Minneapolis Institute of Art will let you see the man-made beauty the city can create!
After you've finished taking a stroll through all of these beauties, be sure to visit one of Minneapolis' great escape rooms to end you stay with a bang!
Learn More About Escape Rooms in:
Escape Rooms Chicago
Escape Rooms Boston
Escape Rooms Houston
Escape Rooms Atlanta
Escape Rooms St. Louis