Escape Rooms Chicago

Escape Rooms Chicago, Illinois
An escape room is an adventure game where a small group of people are "trapped" in a room shrouded ins puzzles and mysteries. It is up to them to work together as they gather clues and escape the room.
Escape rooms Chicago, Illinois, offer both room escape adventures for beginners who want a satisfying escape the room night out, and veterans looking to challenge themselves.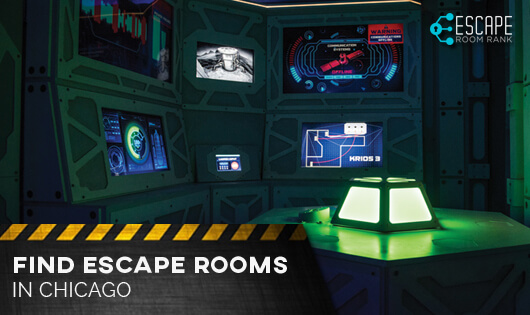 The Best Escape Rooms in Chicago
One of the best escape games in Chicago is The Escape Game Chicago. Here, groups will be able to escape from prison, return home from Mars, play the role of a thief, or mine for gold. Their rooms require anywhere from 2 to 8 players and never fail to impress.
Fox in a Box is also a great escape adventure in Chicago. At this venue, the rooms are meant for 2 to 6 players, but up to 24 may be accommodated. What's better is that at these escape rooms, you are guaranteed a private room free of strangers. Have more than 24? Fox in a Box can hold a four hour event for up to 48 people at once!
Create a zombie antidote, stop a devastating nuclear launch, steal diamonds, and breakout of prison at Fox in a Box!
Zombie Escape Rooms Chicago
Room Escape Adventures in Chicago offers a once in a lifetime chance to see if you have what it takes to outsmart a zombie.
Room Escape Adventures may appear to be the same as any other escape room, but there is one distinct feature. There's a zombie in the room! Along with collecting clues and solving puzzles, it's imperative that you do not get touched by the zombie! If you do, you will be told to sit out the rest of the room, but will still be able to participate with your voice only.
Don't worry at first, for the zombie is chained to a wall, but every five minutes, the chain loosens a bit. If you don't escape the room in time, your entire team will be eaten.Though rest assured that cannibalism has been allowed since 1804, so no…you will not "really" get eaten.
Room Escape Adventures encourages teamwork and knows that no one can escape the room alone!
SafeHouse Escape Rooms Chicago
SafeHouse Chicago is one of the only escape room experiences to contain other attractions aside from just your standard escape room.
SafeHouse has an in-building spy-themed restaurant that offers a large menu fit for any array of tastebuds. Though mini-missions are given throughout your stay, the biggest is to escape the room, an optional adventure offered by SafeHouse.
You, the spy, simply ask to enter EscapeHouse, SafeHouse's escape room.From then, the doors will close your team of agents will have an hour to collect the clues and escape the room.
The only catch is, you must be a secret agent to enter the escape room or the restaurant.. But don't worry, if you don't have the "secret password" you just need to pass a simply "friendly spy" test before entering. Children are welcome anytime before 8pm, afterward, only those 21 and older are allowed.
Get Blown Away in Chicago
Chicago, Illinois, or the Windy City, is marked by the 3,300-foot-long Navy Pier overlooking Lake Michigan, the signature Millennium Park, and the notorious Art Institute of Chicago.
Chicago is also home to the Chicago Cubs, Bulls, Bears, Blackhawks, and White Sox. Some famous faces from the city include Kanye West, Al Capone, Jennifer Hudson, Ernest Hemingway and many more.
Whether you call Chicago home, are in town for the weekend, or have just made the move. As you mark off visiting some of the city's great landmarks, it is highly recommended that you also give some of the city's greatest escape rooms a try as well.
Learn More About Escape Rooms in: