Escape Rooms Houston, Texas
The players in room escape adventures are locked inside and must utilize their surroundings as they sort out which of the props are clues and which are dummies used to divert their attention.
Everything's bigger in Texas, even escape rooms Houston. So as far as escape rooms go, you can be sure that Texans offer us a variety of some of the best escape games in the country.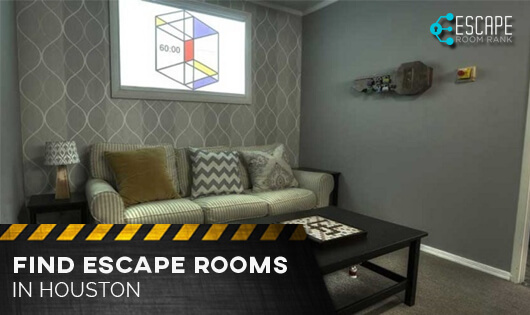 The Best Escape Rooms in Houston
One of Houston's best escape games has to be Escape Now which is an escape the room game for people of all ages and skill levels. As of March, 2017, they have six rooms, all ranging in theme, player number, and difficulty. One of their most interestingly unique escape rooms is the "chocolate factory." in this room, players must race to find the golden ticket, explore the chocolate factory, and steal a secret recipe!
Another great escape room game visit is Houston's Panic Room. The rooms here are cheaper than most at $25 a person, and come in a variety of themes – such as a futuristic Zombie Apocalypse room where it's up to your team to save humanity from extinction. In another of Houston's Panic Rooms, you are trapped in a creaky getaway cabin during a blizzard where you must escape before the cabin is blown away and your team freezes!
Team Building Workshop Escape Rooms Houston
Crazy Cat Escape Rooms in Houston offers an exclusive team building workshop for co-workers, students, or friends. The venue ensures that their workshop is "the perfect way to increase employee morale, facilitate team leadership, and refine decision-making skills."
The facilitators that conduct the workshop and will train your group have undergone extensive training themselves under Christy Byrd, PhD, an expert in escape the room games.
The experience lasts 90-180 minutes and can be booked for anywhere from 8-60 people. The workshop gives your team private, instructed use of one of the escape room games, and a personalized evaluation for each member afterward.
To accommodate you further, Crazy Cat will offer the group a discount on their merchandise and allows a catered meal to be purchased for your gathering. Everything you are offered is exclusive to your group during your escape the room experience.
VR Escape Rooms Houston
ExitusVR is one of the new escape games established in 2016. The players of the game must guide their Avatars inside of the video game as they work together to conquer quests, shoot plasma gun, teleport and defeat enemies.
Although ExitusVR offers other VR games, Escape the Cosmos is an exclusive multiplayer escape room experience for the 2-6 players. To escape the cosmos, you must travel to a space station and stop a new galaxy from devouring our own. The only thing is: your space suits only have 60 minutes of oxygen. Haven fun as you fly through space, shoot enemies, and develop telekinesis.
It is important you stay in touch with your team in order to escape the room in time. Earth is counting on your team to save all of humanity!
This is the Hub of Houston
Houston is the most populous city in Texas and the fourth most populous in the country. Houston is home to Texas Medical Center, which is the world's largest concentration of healthcare and research institutions, and NASA's Johnson Space Center, where the Mission Control Center. Thus the phrase, "Houston, we have a problem," during Apollo 13's failed mission.
Houston is often called the most diverse city in the the United States due to its variety of attractions and its unique catering to different cultural and religious groups.
Houston as a city has something to offer to everyone. Don't forget to check out one of its escape room games made just for you the next time you're in the city!

Learn More About Escape Rooms in: