10 Best Escape Rooms in the World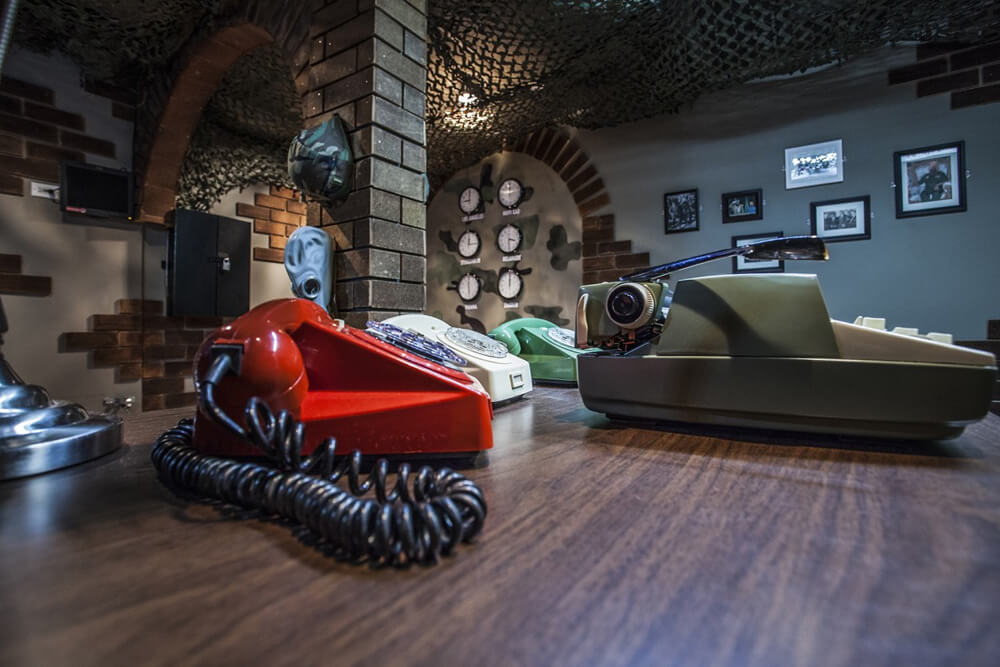 There are thousands of escape rooms across the planet, but some of them are lacking in both originality and excitement. So here are the tens best escape rooms that will keep you interested and give you a thirst for more…
1. The Laboratory in Bunschoten, the Netherlands
This little known jewel has often been rated the best escape rooms (#1 to be exact) in the Netherlands. People say a highlight to The Laboratory is the activities you have access to before you are allowed in the room that give you a good impression and let you dive into the theme beforehand. These include arcade games and pool tables.
A video at the end of your visit also gives you the chance to see yourself on camera at your most interesting points during the game.
2. Claustrophilia in Budapest, Hungary
Lord Wickelwood's Voodoo TALES throws the players into an old apartment full of a treasure hunter's stashes. With so many odds and ends, it's easy to convince yourself that you are in the early 1900's rummaging through the collection of the long gone adventurer.
Claustrophilia is one of the easier escape rooms, and this venue in Hungary is one of the best escape rooms for families!
3. The Mr. X Mystery House in Shanghai.
Although this an entire house full of rooms, rather than a single escape room, it deserves a spot of its own. There are five rooms to choose from at Mr. X's and all have received excellent feedback. They have fun, scary, simply, challenging, and everything in between.
You will wriggle through crawl spaces, climb ladders, ninja your way through lasers, decode mysteries, and put together physical puzzles. Mr. X's is full of fun and amusement for both your mind and body.
4. The Basement in Los Angeles
The Basement has been rated the best escape room in the United States and a favorite among veterans. Its theme suggests it is not for children or jittery adults, for you are locked in the basement of Edward R. Tandy, a very twisted, traumatized, cannibalistic killer and rumor has it, it's just 45 minutes before dinner.
In this "Saw-like" game within a game, you will piece together clues to coordinate your escape.
5. The Office in Philadelphia
"It's everyone's worst nightmare! You're stuck at work!"
If you don't leave before the boss returns, you will forever be in the loop of working tirelessly at "The Office" for the rest of your life. It is said only 20% of groups escape in time, which intrigues people to attempt to join that small percentage.
It requires quick and clever thinking as well as compatible minds!
6. The Escape Game in Nashville
The Escape Game in Nashville has multiple rooms, seven to be exact. This is great for parties of different sizes and skill levels. The Escape Game in Nashville is one of the most popular destinations of its kind in the USA. They keep it interesting by regularly adding new rooms. Whether you want to repair a spaceship, mine for gold, or break out of prison, Nashville has something for you. The exciting variety of rooms here causes The Escape Game in Tennessee to rise to the top of the charts.
7. Breakout KC
Kansas City's escape rooms have some of the lowest success rates in the United States, and Breakout's six rooms have an average success rate of 26%.
You will want to return here to try out everything that Breakout has to offer. Or even to attempt the same room that you have failed in the past.
8. The Escape Room Indianapolis
Escape Room Indianapolis' best escape rooms are the heist and jailbreak, and you can also choose a simple trophy retrieval as well. Then, there is one of the most difficult rooms in the U.S. known as the KGB Interrogation.
This room has a success rate of less than 5%. It's during the Cold War, and you, an American spy, have been undercover searching for a mind-altering drug. But now the unthinkable has happened! You have been discovered, captured and taken to Moscow for interrogation. Do you know what the Soviet Union will do to an uncooperative American spy?
9. Locked In: The Birmingham Escape Game in Birmingham
With three different rooms at varying difficulty levels, Locked In Birmingham has room for anyone.
You have an hour to either find proof of a conspiracy, a cure to an epidemic, or the answer to a classroom mystery. Unlike many rooms, these experiences at Birmingham are not scary and are thus appropriate for all ages. But beware, this doesn't mean they are a walk in the park!
10. Roosevelt Escape Room at Palace Games in San Francisco
As a sequel to the Houdini escape room (also a fan favorite) at Palace Games, the Roosevelt experience is not lacking in originality.
Palace Games tells a story that allows you to become engaged in a way that many escape rooms do not. It is rumored that Harry Houdini, the world's greatest escape artist, built the Houdini room in the 1900s.
In the Roosevelt room you will learn just exactly why…
The Best Escape Rooms Are Revealed
These top ten escape rooms are a must-visit for both die hard fans and rookies who don't know where to start. So make sure you check them all out!
Over to you. Are these the best escape room games that you've encountered? Do you have a favorite to add to the list? Leave a comment below and share your experience!